Applying for Regidence Card
All non-Korean exchange/visiting students at SNU must complete foreign resident registration at Seoul Immigration Office within 90 days of arrival in Korea. Otherwise, you will be fined.
This foreign resident registration will issue you a regidence card (RC), which serves as an official ID card during your stay in Korea. It states your official sojourn period and until the expiration date, you are guaranteed with your sojourn status ('student').
To travel outside Korea, you must apply for re-entry permit in advance and bring your RC with yourself to maintain your sojourn status. This means you cannot travel outside Korea until you obtain your regidence card. The card should then be submitted at the airport when you finish your semester and permanently leave Korea.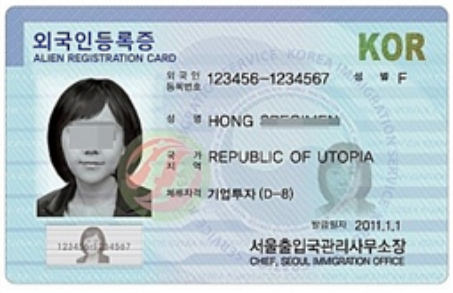 On top of that, residence card provides you with a number of benefits for living in Seoul. For example, a Korean debit card and CMS application (required for dormitory monthly maintenance fee payment) requires the residence card number. Therefore, exchange students who are residing in Gwanak Residence Halls must complete foreign resident registration as early as possible to ensure the successful maintenance fee payment.
Foreign resident registration is not required to Korean nationals and overseas Koreans with F-4 visa. F-4 visa holders must instead report domestic residence at the immigration office.
Also, a multiple entry D-2 visa holder does not have to apply for regidence card, if the most recent stay in Korea does not exceed 90 days. This means multiple entry visa holders must leave and re-enter Korea every 90 days. SNU OIA, however, highly recommends multiple entry visa holders to apply for regidence card for more conveniences.
To file an application for foreign resident registration, you must make a visit reservation at Seoul Immigration Office and visit the office in person with all required documents.
Application Procedure
Venue
Seoul Immigration Office
151 Mokdong-ro, Sinjeong-dong, Yangcheon-gu, Seoul
Mon-Fri / 9 am – 6 pm
Application Period
Within 90 days of your arrival
Application Procedure
Make a visit reservation through HiKorea website. (See HiKorea for learn how to make a reservation.)
Visit the immigration office on the reserved date and time with all required documents.
Immigration office will notify you when the RC becomes available and you will be able to choose between picking it up at the office or having it mailed to your address.
Application Fee
30,000 KRW
Processing Period
Up to 6 weeks (working days only)
Note
From the end of August to September, it is extremely difficult to book a visit reservation. However, it is advised you keep your eyes on the reservation system, because there are many cancellations made and time slots might pop up.
Applicants are not allowed to leave Korea before the application is completed.
In case you need a certification of your foreign resident registration being processed, you can apply for residence card registration certification through the immigration office or local community office (gu-office, dong-office). Before you apply, you must check the issuance availability by dialing 1345 and upon their confirmation, you can go to office to get the certificate, which costs 2,000 KRW.
Required Documents
You should have a colored photo attached (3*4 cm sized, white background, photographed within 6 months) to the form.
Passport
Certificate of Enrollment at SNU
Confirmation of Residence
Residential Type: Gwanak Residence Halls (dormitory)

List of Required Documents: Dormitory Residence Certificate
Note: This certificate can be issued through mySNU a day after you move into the residence halls. Contact SNU OIA if you need the document before the semester starts.

Residential Type: Off-campus Housing whose contract is signed under your name

List of Required Documents: Contract
Note: The exact address of your residence (typed), personal information and signature of both the tenant and the landlord and the duration of your stay must be stated.

Residential Type: Gosiwon, Gositel, Shared House, AirBNB, Guesthouse, etc.

List of Required Documents:

Confirmation of Residence/Accommodation or Accommodation Contract
Business Registration Certificate (to certify address)
Receipt of Payment (to certify residential period)

Note:
The address in the Confirmation of Residence/Accommodation must be identical with the address in the Business Registration Certificate; When submitting the contract, it must state the date of move-in; Bank transfer records can substitute the receipt; For AirBNB, the receipt page must be printed out and submitted.

Residential Type: Friend's House or Off-Campus Housing whose contract is signed without your name

List of Required Documents:

Copy of ID Card of the Real Estate Holder (front and back side)
Contract

Note:
The Confirmation of Residence/Accommodation must state the start date of the residential period; Only when the real estate holder's address shown in the ID card is different with the address in the Confirmation of Residence/Accommodation, you have to submit the contract additionally.
Tuberculosis (TB) Test Certificate
TB Test Certificate is required to those with the following nationalities who did not submit the certificate during the visa application) : (High TB-burden countries) Nepal, East Timor, Russia, Malaysia, Mongol, Myanmar, Bangladesh, Vietnam, Sri Lanka, Uzbekistan, India, Indonesia, China, Cambodia, Kyrgyzstan, Thailand, Pakistan, Philippines, Laos
Tips on the Process
At the beginning of each semester, the queue and waiting time at the immigration office is incredibly long. As it can take anywhere from 2 hours to over 4 hours, our suggestion is that you go before the semester begins.
Here are a few tips to help you reduce any confusion and get through this as fast as possible. Ideally, coming with all the required documents ahead of time is the easiest way. But since you will have to wait for quite a bit anyway, the only documents you must not forget are your passport, proof of enrollment and the 33,000 KRW fee. You can take care of the other requirements there.
When you arrive at the immigration office first, take a ticket with a waiting number. Once you have your ticket, fill out the application form. Then, if you didn't have a picture ready, go to the photo booth next to the ATMs to take your picture (Don't forget to show your ears in the photo!). Afterwards, you have to use the ATM machines to pay the 33,000 KRW fee for the Alien Registration Card. Don't forget to keep the transaction receipt with you, because they will only take that receipt as payment, not cash. Wait until your number is called. (You might want to bring a book, or go with a group of friends to make the most out of the waiting time!)
Regidence Card Re-issuance
When a foreigner loses their Regidence Card, he or she must visit immigration office within 14 days from the date of loss, and re-apply for the Regidence Card.
Required Documents:
  - Passport
  - Photo (3.5cm x 4.5cm, white background, photographed within 6 months)
  - Application form
  - Application fee (30,000 KRW)
Immigration Office Hotline
In case of inquiries you can contact the number below:
Seoul Immigration office (서울출입국관리소)