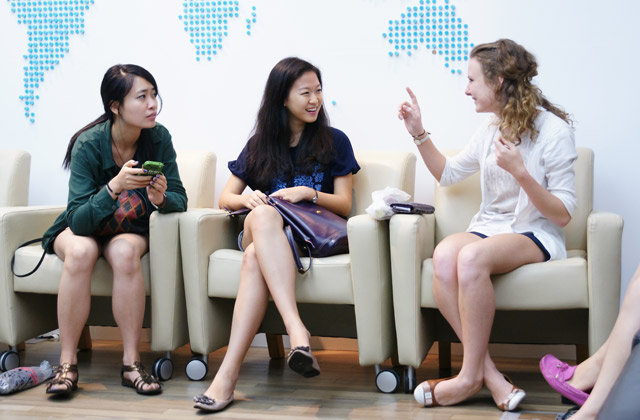 Exchange students are selected every semester. Please refer to an announcement for the detailed schedule.
The exchange program is a program to support students to study abroad as a regular student, including but not limited to participating in a language course abroad. Therefore, students who want to participate in the program are highly recommended to make a decision about the desired university and the curriculum in consultation with their departmental advisor or the head of their department. Please note that graduate students must sufficiently discuss with their advisor or the head of their department before applying, on how to choose the advisor at the partner university and which laboratories to work in. Students must also take an official language exam in advance.
The number of exchange students changes every year since the number of spots is decided after a discussion and review with the partner universities, on an annual basis. The specific number is confirmed immediately before the announcement for the call for application is made.
Students in all majors and programs are eligible. (Some universities may have restrictions.)
Students can apply up to three partner universities in the following areas:

Asia, the Americas and Oceania, and
Europe.
---
Admission Procedure
Procedure
Information session
Application announcement
Online application and submission of supporting documents
Application review process
Selection result announcement
Recommendation of host universities
Submission of application documents to host universities
Orientation before departure
Admission decision from host universities (Admission letter)
Visa process
Exchange Program starts
Requirements
Undergraduate students must have completed at least two semesters at Seoul National University. Graduate students must have completed at least one semester at Seoul National University.
GPA: Undergraduate students must have at least 2.7, and graduate students at least 3.3. (Those who are selected for exchange must continue meet the above criteria right up until the point of departure.)
Restrictions

Those who have ever been penalized for academic dishonesty
Those who have participated in a study abroad program for at least two semesters at the undergraduate level and two semesters at the graduate level
Those who have been selected for exchange program by the SNU OIA (both who have previously participated in the program and those were selected to participate but who have canceled the participation for whatever reasons).
Those who are scheduled for military service.
Required Documents
One online application form
One academic transcript in English
Official language exam records that were obtained within two years of the start date of the exchange period will be considered valid. (Each university has its own language requirement. All applicants must meet the minimum score requirement.)
One statement of purpose (1-2 pages on A4-sized paper; formatting is up to you)
One letter of recommendation from your department advisor or dean
Choosing Host Universities
Applicants can apply to a total of three host universities in each application.
Applicants must check the requirements of each university they want to apply to on their own. Please see the attachments or visit the websites of the universities.
You can find experience reports (reviews) written by the past participants of our program on our website. (Outbound Program → Exchange program → Reports)
Admission Criteria
Applicants who meet the requirements (including academic performance, language score, etc.) are selected in the order of the overall GPA.
Applicants must prepare the official language test scores for each university if you apply online. Applicants need to check the minimum scores required by universities. If you have recently taken a language exam but have not yet received the original score report, you are not eligible to apply for the program.
Academic performance means the overall GPA printed on the transcript. If there are multiple applicants who have the same overall GPA, then the person who have completed a higher number of credits will be selected. (If the credits are the same, then the statement of purpose will be considered.) (If the applicant is a graduate student, only the GPA earned during the graduate program will be considered.)
If you have been selected to participate in the exchange program to a certain area, then you cannot not apply for any other exchange programs to other areas through the SNU OIA.