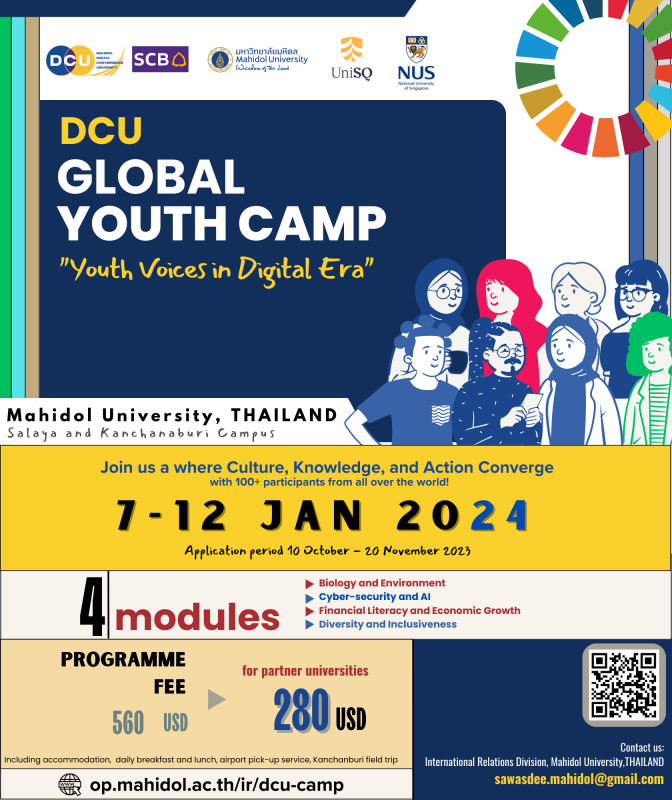 DCU Global Youth Camp 2024 Announcement

Mahidol University, in collaboration with the National University of Singapore (NUS) and the University of Southern Queensland (UniSQ, Australia), is hosting the "DCU Global Youth Camp 2024" from 7-12 January 2024 under the theme "Youth Voices in Digital Era."

Application: the official website

Key Details:

Objective: Foster global collaboration and innovative thinking among 100+ undergraduate students worldwide.
Focus: Address pressing global issues through Sustainable Development Goals (SDGs).
Modules:
- Biology and Environment
- Cyber-security and AI
- Financial Literacy and Economic Growth
- Diversity and Inclusiveness
Program Fee: $560 (inclusive of accommodation, meals, field trips, airport transfers).
Scholarship: 50% program fee support.
Application Deadline: 20th November 2023 (first come, first served).
Program Dates: 7-12 January 2024 (Arrival: 6th January, Departure: 13th January).

For more information and updates, visit the official website.